Boost safety. Cut costs.
AI Powered Fleet Dash Cam
Monitoring Solution
Dash Cam | Starting at
$359.95 $449.95
Subscription | Starting at
$14.99 month/vehicle
Have a big fleet? Get a discount!
All-in-One Dashboard Powered by Fleet Dash Cams
Empowering safe and cost-efficient driving
NEW!
Monitor vehicle activity with real-time geofence notifications
Create a geofence around an area of interest and get a real-time alert if your driver enters or exits it, to prevent unnecessary detours, idle time, and unauthorized trips.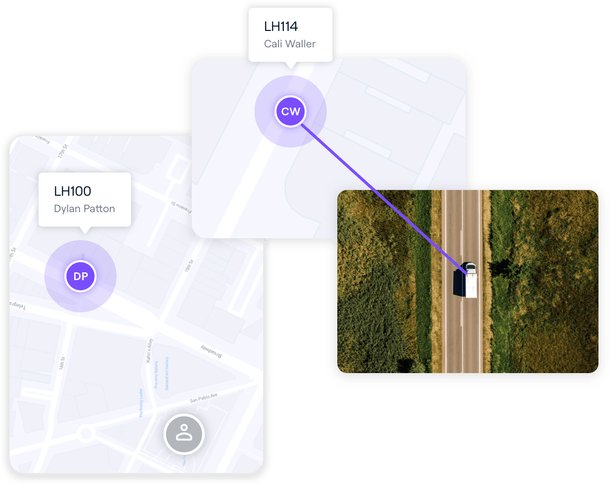 Optimize fleet efficiency with live GPS tracking
Stay in control of your fleet around the clock as you effortlessly access your drivers' live GPS locations, eliminate unnecessary detours and enhance fuel economy.

Monitor your fleet in real time with live video
Gain complete visibility with remote live streaming. You'll have immediate video access in case of an emergency and be able to monitor risky and costly driver behaviors.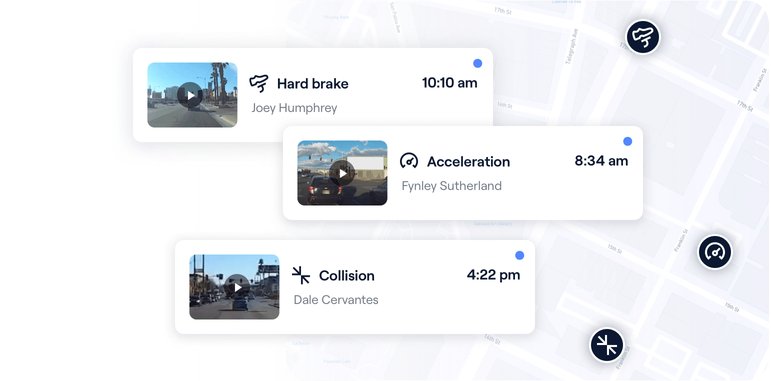 Track aggressive driving behavior with real-time alerts
With AI detections, Nexar Fleets dash cams will automatically save important video clips, like hard brakes, sharp cornering, and high impact events, so you can coach risky drivers and reduce the risk of costly insurance premium hikes.
Save money from day one
Use Nexar's comprehensive dashboard, fleet AI dash cams
and best-in-class customer service for up to 80% less than competitors.
How it works
Dash Cams
Nexar Fleets dash cams are powered by Nexar One. Note your fleet size and install cameras in each of your vehicles.
Dashboard
Your one stop shop to optimize your fleet.
Track and monitor your drivers and vehicles in one easy-to-use dashboard.
Support
Customer service is here to help.
Reach out to one of our amazing customer service reps with any questions. Our mission is to make roads safe while helping your business save.
Nexar was founded in 2015 with the mission of making roads safer through cutting-edge AI technology. Our fleet dash cam monitoring solution uses this technology to improve safety while empowering businesses to gain greater control over their vehicles, drivers, and expenses. Embrace Nexar's vision and navigate the journey toward a safer and more efficient operational future.
Our customers are coming from all industries:
Trucking
Constructions
Transportation
Medical Services
Government
Towing
Oil
Field Services
Car Rental
Security
Property Management
Waste Management
HVAC

Get your quote in under 2 minutes!
30-day money back
Free shipping
How Nexar Fleets compares to other fleet solutions
Interior Camera
Live Stream
Smart Alerts
Video FNOL
Free Cloud Storage
Driver Monitoring
Suitable for Microfleets
Live Location
GEO Fencing
Hardware Pricing
Subscription
$359.95
$14.99 - $19.99
FAQs
How does Nexar Fleets work?

As a fleet manager, you have access to all your vehicles' cameras, providing you with their live location and giving you the option to see what they see. Looking at your dashboard, you'll be able to view the history of all the important moments for each of your vehicles as well as the current activities of your drivers. This data gives you complete control over your fleet and helps you direct your drivers to where they need to be. Nexar Fleets helps you optimize service for your customers and make better decisions based on data.
How do I contact Nexar support for fleets?
What's included in the Nexar Fleets?

Nexar Fleets includes the following features:

Remote Live Streaming
Free automatic cloud backup - when the dash cam detects collision or an incident
Live Vehicle Tracking - view the exact location of all your vehicles on the live map
Remote fetching - easily create video clips of specific moments of a driver's route.

Coming soon:

Collision reconstruction - detailed reconstruction of the actions of all parties involved in a collision.
How long should it take for Remote Livestreaming to start?

Remote Livestreaming may take up to 4 minutes to load.
Do I have to use the original dash cam accessories?

Yes, please use the original power cable and cigarette lighter adapter that came with the Nexar One. Using alternative components may cause permanent damage to the dash cam.
Do I need to connect the dash cam to a continuous power outlet for it to work?

Yes, to experience the full capabilities of Nexar One for fleets, you should connect each of your dash cams to a continuous power source. When purchasing Nexar Fleets, you'll be able to choose between an OBD or Hard Wiring kit. Please follow the installation instructions and make sure to connect each of your cameras to the power source you choose.
Does my phone need to be connected to the NexarOne over WiFi in order to livestream?

No, there is no need to be connected to the dash cam when attempting to livestream. However, you do need a strong cellular data connection. You could also be connected to your home or work WiFi.
How can I add/remove drivers from the dashboard?

Add drivers by simply activating the new camera with the deeplink.

At the moment, removing drivers is not possible from the user side. Please contact the support team

fleethelp@getnexar.com

to get it done.
Will our insurance premiums go down?

While your insurance premium isn't likely to be discounted immediately, we've seen many instances where dash cam video provided the proof that was needed to waive deductibles and reduce premiums.
Will I have a live view of my drivers?

Yes. Nexar Fleets gives you the ability to connect to your vehicles remotely and see what your drivers are seeing. If you want to look inside your vehicles, you can add an interior camera to monitor the inside.
If unsafe driving occurs, when will I know?

Incidents such as collision, hard braking, or sharp turns will be automatically saved to the dashboard under the incidents tab. On the dashboard, a blue circle will appear next to the word 'incidents' every time a new incident is added.
How long does the dash cam keep the footage?

As long as there is space in the dash cam's internal memory, footage will be stored. If the internal memory is full, old drives will be overwritten with new ones. Important moments, such as hard-braking, harsh accelerations and collisions will be saved in the cloud for good.
How do I access the dash cam videos?

Nexar automatically detects important incidents and backs them up to your Nexar Cloud account. In the dashboard, you can view all saved videos in the incidents tab.